CYCLE TO WORK SCHEME
We accept ALL Cycle To Work / Cycle Schemes!* (Currently not accepting Halfords C2W schemes). 
Please contact us via Livechat, Phones or email: Info@electricrider.co.uk to arrange!
Employer or Employee Looking For a C2W Scheme?
Click here to register & arrange instantly: https://greencommuteinitiative.uk/instant-quotes/
What is it?
In a nut shell: The employer buys the bike for the employee, the employer claims back the VAT and then your employees pay you back out of gross pay rather then net pay, so they benefit at no loss to yourself. The below link shows you how to account for this:

Click Here For The Department For Transport Website
All we need to do is invoice the employer, we deliver the bike and the employee starts paying the employer back each month.
If you're wanting to purchase our bikes through these schemes please follow the steps below. If you didn't see the scheme advertised here please contact us and we will quickly join so you can purchase our products.
How much will I save?
How much you save depends on how much you earn and therefore how much tax you pay
Basic rate tax payers (those earning less than £50,000) will save 32%
Higher rate tax payers (those earning more than £50,000) will save 42%
Additional rate tax payer (those earning more than £150,000) wil save 47%
In addition, the employer will save 13.8% on reduced NICs
Use our calculator below to work out your savings! We cannot provide further discounts when using a C2W voucher as these schemes take a large % commission from retailers. You will still be eligible for any free gifts on offer at the time of purchase, listed on the product pages.
Benefits of Green Commute Initiative
No £1000 Limit
GCI is the only cycle to work scheme with no £1,000 limit. This is possible as GCI is authorised by the FCA for consumer hire up to any value.  On other schemes, the employer is the hirer of the bikes and therefore they are limited to £1,000 under the rules of the scheme.
No limit means any bike is possible including E-bikes, cargo bikes and cycles for disabled people.
Free 4 Week Insurance
We are delighted to have teamed up with Cycleplan to offer our customers' four weeks' free bike insurance with no obligation.  
No Scheme Exit Fees
We don't charge an end of scheme exit fee.  On other schemes this can be as much as 7% of the original value of the bike making a big dent in the customer's savings.
Bikes Are Safe With GCI
GCI is a social enterprise, whose constitution prevents it from taking on debt therefore it can never have creditors and cannot become insolvent.  This means the bikes are safe and will always end up with the employee.  GCI is the only cycle-to-work provider to offer this.  In today's retail environment this is a vital safeguard.
How it works
You visit our website to select the bike and equipment that you want. Then please request a quote from us by livechat, email or phone (please note on some sales items there may be small surcharges. Promo Discount Codes cannot be used in conjunction with Scheme Purchases) You will be given a quote, and you provide this to your HR department (or whoever is in charge of the scheme at your work), to pass to the specific scheme.
Once you have requested a secure voucher or letter of collection, your employer confirms eligibility and approves the request. The scheme will send them an invoice for the bike package, and a hire agreement is sent to you to sign. As soon as the bike is paid for, the secure voucher or letter of collection is sent to you.
Your hire payments are deducted from your gross monthly salary. At the end of the hire period you pay a Fair Market Value payment to own the bike outright.
You then contact us with the voucher or letter of collection and we will book you in for delivery
Help your employer help you!
A cycle to work scheme is a great incentive for employees, and companies can save money too - every bike processed through the scheme means an employer's National insurance saving. Everybody wins, and it's time to let your employer know!
PAYE only
Your employer has to be willing to run the scheme before you can get your bike. This is because the scheme can only run through what is known as a salary sacrifice, where you agree to temporarily reduce your wages to pay for the hire of goods – in this case a bike and equipment. The scheme is available to UK tax payers who pay PAYE. Please note that the self-employed cannot take part in the scheme.
What Happens At The End of The Scheme?
At the end of the 12 month hire period, GCI cannot simply give the bike to the employee.  Under HMRC rules, transfer of ownership is seen as a benefit-in-kind on which there is a tax liability.
Up until the bike is 6 years old, HMRC charges tax.  Once the bike has reached 6 years old, HMRC deems it has no market value and at this point, the bike ownership can be passed to the employee with no tax implications.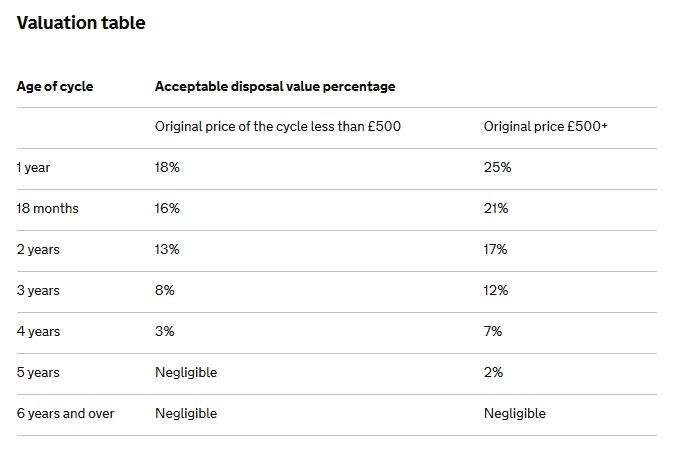 Therefore, after the inital 12 month hire period, GCI offers scheme participants the option to move to an extended 5 year loan, free of charge, to take the bike to 6 years old.  This means no benefit-in-kind tax will be due, thus allowing the employee to retain the all of their original savings.
How to Order
Send a livechat message or email to info@electricrider.co.uk requesting a quote for the products you want to purchase – it's that simple.
To speak to someone about a return, please give us a call on 0333 050 4023
FAQ: